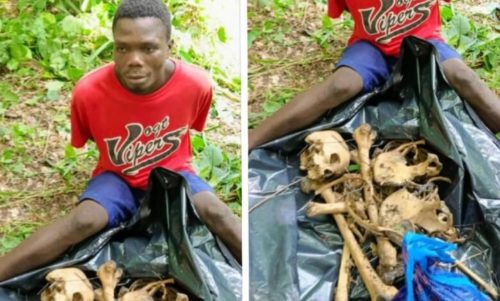 The Akatsi South police command has retrieved human parts believed to be the remains of a 28-year-old motor rider, Louis Agbogli, who went missing on 21 April.
Agbogli, a native of Atidzive, resided at Akatsi, both in the Akatsi South Municipality of the Volta Region. He went missing after he was seen picking a female pillion rider on Friday 21 April from Akatsi to Kpetoe area.
Isaac Baah, the Akatsi South Municipal police commander, told the Ghana News Agency that on Thursday 27 April, Lumor Agbogli, father of the deceased, made a complaint to the police about the disappearance of his son.
Baah said the police, in their preliminary investigations, said the suspect, Regina Dagba – an 18-year-old girl from Asafotsi-Dagbakope, a village in the municipality – sought the service of a motor rider on Thursday 20 April to travel to Adetsewui to meet her boyfriend.
The police commander said Dagba did not have enough money to pay for her fare, "so the deceased willingly added GHC3 to aid her departure to the village."
Baah said, the suspect, after taking the deceased's contact, called him the next day to thank him for his help. She asked him for a motor riding service to Kpetoe, which he obliged "even though his colleague riders discouraged him from offering that service.
"Upon reaching Kpetoe, the suspect appealed to the deceased to take her to a village called Nyatsive, where the deceased has since not returned, causing fear and panic among his relations and friends."
Baah further disclosed that the suspect, together with Etse Datsomor, her 20-year-old boyfriend from Adetsewui, were lured from Datsomor's hideout at Nyatsive in Togo and arrested around the Wute stretch of the Akatsi- Ziope road on Monday 15 May. After interrogation, they both admitted to having murdered the deceased.
The police commander said his outfit collaborated with its Togolese counterpart after it obtained a court order. Datsomor led a team of police officers from both countries to a gravel pit located between Kpetoe and Nyatsive, where bones and a skull were retrieved.
"Suspect pointed the scene to the police and after a careful inspection, it was found that the body had decomposed, leaving behind only the bones and skull," said Baah.
Police sources said the suspect also led the police team to a nearby bush to retrieve the deceased's motorbike, which was close to where he was allegedly murdered.
Baah said efforts are underway to transfer the bones to Accra for forensic laboratory examinations. The suspects will reappear in court on Friday 2 June.