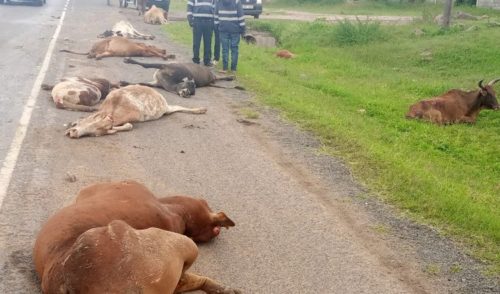 A truck driver was on Thursday beaten senseless by herders after he drove his vehicle through a herd of 18 cows, killing 13 instantly in Athi River.
A police dispatch report from Athi River indicated that the driver, who was headed to Nairobi, overlapped other trucks before hitting the cattle.
The owner of the cows, Ndeneyio ole Kasio, told the Star he had just left the Green Park area of East African Portland Cement in Athi River with the herd after a two-day journey from Yatta when the truck killed 13 of them and injured five others.
"We had taken all the necessary precautions by sending two men to stand on the road with red clothes raised on sticks to stop the on-coming cars," Kasio said.
He said other vehicles had stopped to allow the cows to cross as they headed to Kajiado when the offending truck overlapped others and caused the accident.
The police said after the accident, members of the public descended on the driver identified as Joseph Mbai who was driving a Mercedes Benz truck and beat him up.
Athi River police said the driver sustained injuries on his head and hands and was rushed to a nearby hospital in Athi River.
The owner of the livestock said he want justice and nothing more.