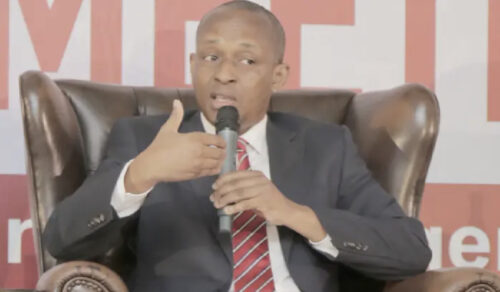 Country Senior Partner at PricewaterhouseCoopers (PwC Ghana), Vish Ashiagbor, has said President Nana Addo Dankwa Akufo-Addo cannot decide on his own to amend the three revenue bills that were approved by Parliament on Friday March 31.
In his view, if there will be any amendment at all, the bills have to go through the parliamentary process that got them approved.
"I am not a lawyer nor do I claim to know about Parliamentary procedure but as far as I know, once the legislature has passed a bill into law the only thing left is to receive presidential assent.
"I stand to be corrected but I do not believe the President can choose to strike out clauses 1, 2 and 5 for example and leave the rest, that is my knowledge. The best the President can do is to decline to give assent.
"Parliament in its wisdom has passed these bills into law so if there is to be any amendment, it has to go back through the process, the President cannot just sit in his office and decide to strike out or to amend," he told Joy FM.
Some stakeholders have rejected the taxes.
For instance, Executive Member of the Association of Ghana Industries (AGI) Tsonam Akpeloo told the government to review some of the areas it is spending revenue instead of imposing new taxes on businesses.
He said times are hard therefore the government must review its expenditure to reflect the realities.
Speaking on the Ghana Tonight show on TV3 Wednesday, April 5 in connection with the three revenue bills – Excise Duty, Growth and Sustainability Levy and Income Amendment Bills – that have been approved by Parliament, he said "Our view is that government must look at its own expenditure and reduce its expenditure to reflect the realities of the time.
"Times are hard and you cannot afford to have a blaoted expenditure this time. We feel very strongly that government should consider reviewing its own expenditure."
The AGI registered its disappointment at the passage of the three revenue bills.
The association said the approval came on the heels of an already harsh business climate. The passage of these bills poses very dire consequences for Industry, it said.
"We continue to experience a tax regime that does not motivate local production and formal business operations.
"We denounce the lack of stakeholder consultation on such fiscal policies, which have negative impact on businesses. AGI took steps to make input to the bills and it's
obvious that our submissions did not receive the consideration we expected," a statement issued by the AGI said.
The association further stated that local industries are already under severe pressure from several headwinds, including; Inflation currently at 52%, VAT shot up to 15%, resultant effect of 21.9%, Water tariff increments at about 172% for the beverage sector, Electricity tariff currently at 29.9% for industry, Policy rate at 29.5%, making cost of credit exorbitant, Increase in Residual Fuel Oil (RFO) price due to Government subsidy withdrawal, An unstable foreign exchange regime, Levies and taxes on imported raw materials totalling about 50%.
Electricity tariffs shot up significantly on two occasions totalling a whopping 56.5%, within
a period of less than six months. How could our beverage sector absorb water tariff
increment of over 300% in a single tariff review and now excise duties slapped on locally
produced beverages.
"Contrary to Government's ambitious revenue projection which largely hinges on the
performance of Industry, we foresee a contraction in manufacturing and other related
business activities. Businesses may have no option than to cut down on expenditure and production levels to stay within budget. With the foregoing, Government risks missing its revenue target if industry has to contend with these new taxes.
"While we reckon that Government needs revenue, fiscal prudence is crucial. We appreciate the urgent need of the IMF measures, but this should not be at the expense of growth in our industrial sector.
Indeed, it is in the mutual interest of industry and Government to sustain Agriculture and
Industrial sectors which hold the key to job creation.
"We call on Government to engage AGI on measures to incentivise our local industries to
forestall the negative consequences of these policies. To this end, we welcome the
opportunity to dialogue with Government on how to save jobs and the strategic options to
explore in cushioning our local industries. AGI wishes to assure its members that the Association will continue to engage Government on such fiscal policies to bring positive reviews in subsequent national budget statements."