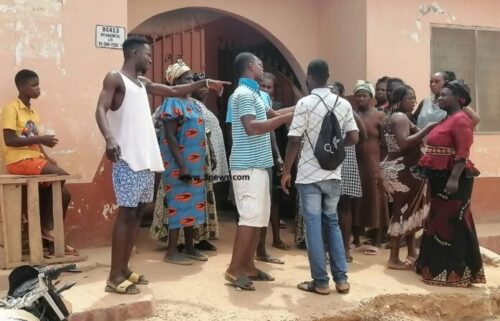 There is currently uneasy calm at Ntankoful, a community in the Sekondi-Takoradi metropolis, after a resident was allegedly killed by the police in the Western Region.
Residents and family members told host of Connect FM's Omanbapa morning show, Nhyiraba Paa Kwesi Simpson, that the deceased, Emmanuel Baiden aka Abu, 25, was arrested by the police last month on suspicion that he was an armed robber.According to them, efforts to know the police station he was sent to proved futile until they were informed of his death.
The wife of the deceased corroborated the story, telling Connect FM she witnessed the arrest of her husband.
"I was with my husband and kids when some people claiming to be police in mufti came around. They approached my husband and started asking him questions which he answered. They went back into their vehicle and suddenly came back to grab my husband and started beating him mercilessly. He asked what crime he has committed and they said nothing. They took him to his house, broke into the room, and scattered everywhere. They started hitting him with their guns until he became weak and they took him to their vehicle and drove off. I did not hear anything again until today I'm hearing he is dead," wife of the deceased Felicia Acquah narrated.
According to a family member, Alhaji Muhammed Jawal, they followed up to inquire from the Western Regional Police Command and they were told by the Deputy Regional Police Commander that their relative was exchanging gunshots with the police and died in the process.
"We went to the Regional Police Command and the Deputy Commander, who identified himself as Dr. Chidi, told us that our relative was dead. We asked how he died and they said he was exchanging gunshots with the Police and died in the process. This is a person who was arrested unarmed and handcuffed so we don't understand the whole story of the gun exchange with the police," he quizzed, sobbing bitterly.
A resident, Baba, who claims he was also arrested and that he was in the police vehicle when Abu was arrested, indicates that there was no gunshot exchanges whilst they were in the vehicle.
"I was there when some officers came to arrest me. They took me to the Central Police Station and started beating me. One of my friends known as Ouattarra came to the police station and he was also arrested. They asked us if we knew Abu (deceased), we went with them in their vehicle and they arrested Abu as well. They transported us back to the police station and there was not any time in point when anyone exchanged gunshots with the police. They were beating us with rod and their guns and that is what might have killed Abu because they later separate us when at the cells. They only said we were armed robbers which is not true," he explained
According to the family, they later inquired from the police where the body of their relative had been kept and they were referred to the Police Hospital in Accra.
"We were told the body had been deposited at the Police Hospital in Accra. With the assistance of the regional police commander, we were led to the Police Hospital in Accra on Thursday, April 6, 2023 where we were given the opportunity to identify the body. For what we saw as lay persons, there was no gunshot wounds. There is nowhere on the body that showed wounds from gunshot. It rather looked like he has been beaten to death. We were told he died about a week ago but the blood oozing from the head was so fresh. At least, if it had been more than a week or so, the blood shouldn't be that fresh. We suspect foul play," Liticia, a friend to the family, said.
Queenmother of Ntankoful, Nana Efua Yiba II, is urging the residents, especially the youth, to remain calm as investigation continues.