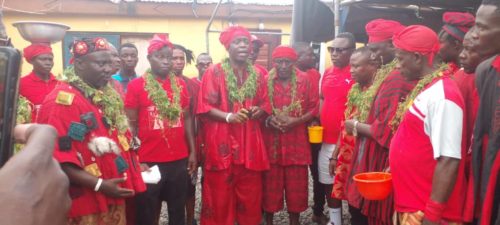 At a joyous Homowo celebration when the chief and people of kpobiman marked the festival in a grand style by singing and drumming.
The celebration attracted thousands of people in and within the community to come and pay homage to the people of kpobiman.
Speaking after the chief of kpobiman sprinkling the kpokpoi through the principal streets of kpobiman, Nii Tetteh Kootse, called for peace and unity among Ga State Tettey and Tetteh.
He appealed to some Paramount who are by one way or the other trying to impose and install chiefs on divisional chiefs without any consultation is a worrisome issue and needs to be addressed.
According to him, Chieftaincy is like politics one needs to nominate and select by votes to become a chief. Like we vote to elect parliamentarians into office, no one can just pick someone from anywhere and impose them on us which they disagree with.
Nii Tetteh Kootse I said the reason why this year's Homowo commemorative was very quiet was due to the demise of the late Ga State Queenmother and may her soul rest in peace.
He is the youth to desist from political violence and Chieftaincy dispute because it doesn't speak well of the peace and unity the people of Ga State have been enjoying over the years.
The chief of Kpobiman who also doubled as the president of Ga West Association of Chief's hinted that he will prey on the Paramounts to consult with the divisional chiefs for a installation of any title because they can decide for the rightful to occupy for such positions.
He was optimistic that by doing so would help go a long way for the progressiveness of the Ga State and also deeping the unity.
STORY by Charles Mensah Nyamedi