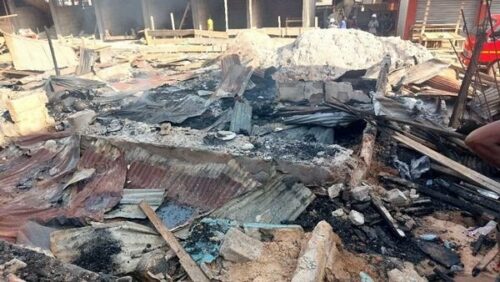 Fire has gutted the Sefwi Dwinase Central Market in the Sefwi Wiawso Municipality of the Western North Regional on Tuesday evening destroying properties worth thousands of Ghana Cedis.
However, the cause of the fire still remain unknown.
Over eight (8) metal and wooden structures and two (2) living rooms were burnt.
Sefwi Dwinase Market is the Central Business Centre for the Western North Regional Capital, Sefwi Wiawso but with poor trading environment for market women and traders.
Even though the Municipal Assembly is putting up some new stores for the traders but in-terms of sanitation and hygiene, these challenges are still hanging making traders uncomfortable.
The incident which occured on the wee hours of Tuesday, after the traditional Tuesday market, February 28, 2023 remains unclear what triggered the cause of the fire.
An eyewitness accounted that the fire started from one of the stores before spreading to other parts of the structures.
Some of the items destroyed were clothes, assorted drinks, plantain among others.
Sefwi Wiawso Fire Service Commander, D02 Joseph Amehere said their office received a distress call at around 9:10pm and dispatched the water tender with six personnel to the scene within three minutes.
According to him, the fire was still spreading through other structures.
They, however, did their best to contain the fire and finally brought the fire under control around 11:20pm.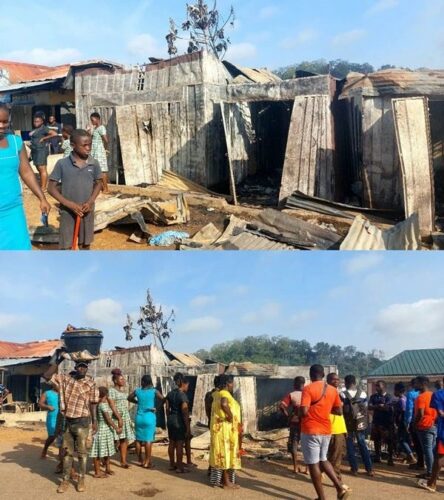 Meanwhile, the NADMO Director for the Sefwi Wiawso Municipality, Agyeman Bediako indicated that his office including the Fire Service and the Police will do a forensic investigation to ascertain the cause of the fire.
He also warned owners of the stores in the market to use the right and quality electrical materials for their wiring.
He also urged them to stop overloading the sockets to avert such unfortunate disasters.