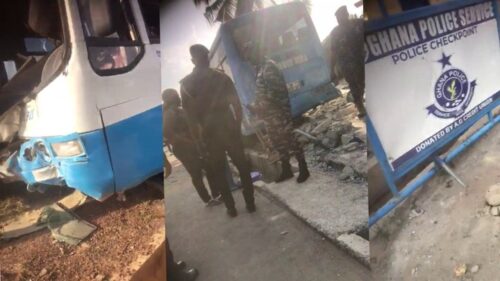 A school bus belonging to Jita Academy in Obuasi, Ghana, was involved in a serious accident on Wednesday afternoon, crashing into a police checkpoint and injuring four people.
The victims included two policemen, an official from the assembly who collects taxes at the checkpoint, and a child. Fortunately, there were no fatalities reported in the accident.
The incident occurred as the school bus was returning to the academy after dropping off students. According to the driver, the brakes failed, and he had to swerve to avoid colliding with a car coming from the opposite direction. The bus then crashed into the Kwabenakwa police checkpoint, causing the injuries.
Eyewitnesses at the scene described the aftermath of the accident as chaotic, with people rushing to the scene to attend to the injured victims. The four victims were quickly transported to the hospital, where they received medical attention for their injuries.
Hon. Maxwell Owusu Ansah, the Assembly member for Kwabenakwa, was quick to respond to the accident and spoke to the media about the incident. Speaking to Obarima Kwadwo Gyamfi, host of Aseda FM Morning Show and monitored by Obuasi Today, he expressed his concern for the injured victims and promised to work with the police to ensure that such an accident does not happen again.
"I am deeply saddened by this unfortunate incident, and my thoughts and prayers are with the injured victims," he said. "We will work closely with the police to investigate the cause of this accident and ensure that necessary measures are put in place to prevent such incidents from happening in the future."