The MP for Atwima Nwabiagya South, Emmanuel Agyei Anhwere was not spared on Thursday after he visited his constituency following Wednesday's heavy downpour that caused destruction leading to the death of one person.
The residents in about five(5) communities such as Sepaase, Hyiawu Besease, Ahodwo, and Amoabeng, in the Atwima Nwabiagya South Constituency hooted at their Member of Parliament, Emmanuel Agyei Anywhere when he visited a flooded river and a death trap bridge that killed a lotto agent.
Despite being escorted by the police, the angry residents hooted at the MP amid claps and shouts; "away, away, away, huuu, huuu, huuu, wagye w'ani so see, huuu".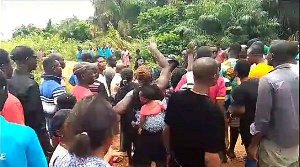 The residents accused the legislator of failing to fulfill the campaign promises he made, specifically on their deplorable roads and death trap bridges in the area.
The group wielded machetes and sticks while others hooted at the MP.
Narrating their ordeals, some of the residents justified that their actions were in the right direction since the constituents had been cut off from the Year of Roads agenda.
They further warned the MP and the other leaders never to step into the area until they do the needful. According to them, the continuous appearance of their deceptive leaders like the MP, and the DCE in the area, whiles their problems have not been fixed, mostly annoys them.
Meanwhile, the member of Parliament who was hooted at has admitted the blame citing that he sees the constituents getting fed up. But, he however pleaded with his people to exercise patience since the road had been awarded to a contractor over the years.
He added that his people's demonstration, hooting at him, and pelting of stones were justifiable. "But I am assuring them the New Patriotic Party government will complete the road from Sepaase Junction to Ntensre before 2024".