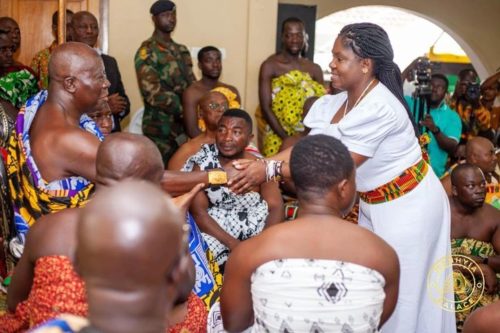 Asantehene Otumfuo Osei Tutu II has urged the Vice President of Colombia, Francia Elena Márquez Mina, to take the lead in promoting collaborative efforts between her nation and Ghana, particularly in the areas of agriculture, trade, and investment.
Otumfuo Osei Tutu II says the Colombian Vice President's Ghanaian heritage makes her a crucial advocate for trade relations between Africa and the South American nation.
Otumfuo Osei Tutu II made these remarks during a visit by Colombian Vice President Francia Elena Márquez Mina and her delegation to the Manhyia Palace.
The Asantehene highlighted that the position of the Colombian Vice President provides an ideal platform for Ghana and Colombia to engage in collaborative efforts that promise mutual benefits.
"Be it that you are the first Afro-Colombian to be the Vice President, we are expecting more collaboration between Ghana and Colombia
Speaking through an interpreter, the Colombian Vice President expressed her eagerness to reconnect with her Ghanaian roots.