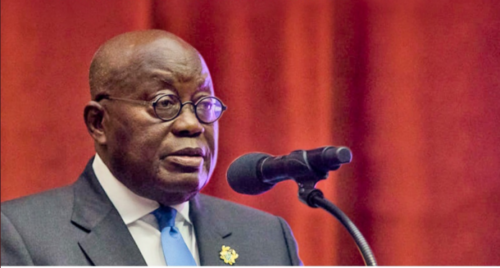 President Nana Addo Dankwa Akufo-Addo has said that his government has protected jobs and incomes of workers.
He said that protecting incomes and pensions, in an era of economic crisis, is tied to increased productivity, enhanced revenue mobilisation, effective expenditure management, and, in particular, the effective and sustainable management of the public sector wage bill.
"Today, the expenditure on compensation of employees, which comprises wages and salaries, allowances, pensions, gratuities and social security contributions, represents 56.01% of tax revenue, which is higher than the ECOWAS threshold of 35%, creating a serious fiscal crowd-out effect.
"This calls for immediate steps to increase productivity in the public service, as well as aggressively increase revenue collection by the Ghana Revenue Authority," he told the Trades Union Congress (TUC) during the May Day celebrations in Bolgatanga on Monday May 1.
Given that growth in public expenditure far outstrips that of revenue, he said, it behooves on government to bring expenditures, including the public sector wage bill, to sustainable levels.
Managing the public sector wage bill in a sustainable manner would inure to the protection of incomes and pensions, as it helps contain inflation.
"Mr. Secretary-General, we brought inflation to single digits, and sustained it for some time until the global crisis pushed inflation to its current highs. We have brought inflation to single digits before, and we will do it again.
"Secretary-General, the quest to diversify the economy for greater macroeconomic outcomes has become more paramount than ever. The current crisis provides an impetus for diversifying trade and production, and exploring alternative income earning opportunities. As you know, we are committed to the policy of domestic food security and export-driven value addition. It is in our interest to patronise domestic goods and services to hasten economic recovery, create jobs for our peoples, and boost their incomes. Many a time, we overlook the national penchant for foreign goods and services, but are quick to blame Government when it begins to have a toll on our foreign reserves. Government will continue to do what is within its control. However, consumer preference for goods and services must be deliberately championed by us all."
He added "We must patronise the services of our own, support them to grow, support them to employ our fellow Ghanaians so that, together, we can contribute meaningfully to building the Ghana we all want. I urge everybody here to support the Region
by patronising made-in-Ghana products, including food and drinks before departing to your respective destinations. This is one of the ways in which we can protect the incomes of people working and living here in Bolgatanga."
Mr Akufo-Addo further stated that dialogue, consultations, engagement in frank and open discussions remain very important routes through reaching consensus and proffering solutions for issues of national development.
To this end, he said "I would like to entreat the Tripartite, namely, Government, Organised Labour, and Employers Association to re-activate the Social Partnership Council that was inaugurated in April 2019, but whose mandate came to an end in December 2022. The Social Partnership Council offers a mechanism for building a sense of cohesion, trust, self-management and engagement in frank discussions with mutual sacrifices from all stakeholders to champion Ghana's development.
"I am informed Government has already circulated a request for nomination for the reconstitution of the Social Partnership Council to the Tripartite. I call on the Tripartite to provide nominations for the immediate reconstitution of the Social Partnership Council. This is consistent with the Kwahu Declaration, from the National Labour Conference of March 2022, which called for the Social Partnership Council to be strengthened as a platform for building consensus on development policies and programmes.
"Let me touch on a very important subject matter which is the status of the IMF programme negotiations. After achieving a Staff Level Agreement with the IMF in December, 2022 in record time, six months after beginning the negotiations in July 2022, we have continued to work tirelessly to complete all prior actions required to present Ghana's Programme to the IMF Executive Board for approval. We have also made substantial progress on the debt exchange programme, as well as on our engagements with bilateral creditors to secure financing assurances required for the IMF Programme. We are assured that the next round of meetings of the Paris Club will result in the formation of Official Creditor Committee, inclusive of China, and the provision of financing assurances.
"The IMF and the World Bank have been very supportive in this journey. With the progress made so far, we expect the IMF Board to consider Ghana's programme for imminent approval, after the financing assurances are provided. I thank Organised Labour for the role they have played in this journey, especially their inputs into the preparation of the government's Post COVID-19 Programme for Economic Growth, which underpins the IMF-supported Programme."