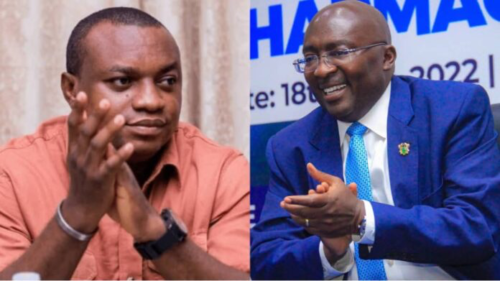 The Deputy Director for Special Duties for the National Democratic Congress (NDC), Ernest Yaw Brogya Genfi, has asked the youth of the party to pray for a resounding victory for the Vice President, Dr. Alhaji Mahamudu Bawumia, in the upcoming presidential primary of the New Patriotic Party (NPP).
According to Mr. Genfi, the Vice President has caused many atrocities in his capacity as the second gentleman of the land, and defeating him in the general elections would be the easiest battle for the NDC.
Mr. Genfi was addressing the NDC youth in Ejura Sekyeredumase Sunday, September 3, 2023, when he said "pray for Bawumia to win the NPP Presidential primaries on November 4th because he's the one we are prepared for."
The Vice President has caused more harm to the country but we can be at least benevolent at this point by praying for him to win the primaries. Let us pray he gives Kennedy Agyapong and Co a real showdown," he told the youth.
The programme was organised to galvanise the NDC youth to orient them about the challenge ahead in 2024.
In attendance was the Ashanti regional Chairman and Secretary of the NDC, the Regional Youth Organizer and Deputy, the National Organizer, Deputy General Secretary and Deputy National Youth Organizer as well as the newly appointed Director for Inter party/CSOs relations.
Giving his remarks, Chairman for the gathering, who is the Member of Parliament for Ejura Sekyeredumase, Mohammed Bawa Braimah, called on the youth to work hard to ensure another term victory for the party in the constituency in 2024.
GES postpones reopening date for Form One students in all SHS/Technical institutions
By Felix Anim-Appau – September 4, 2023
Dr Eric Nkansah is Director-General of Ghana Education Service
Google search engine
The Ghana Education Service (GES) has served notice to all Regional Directors of Education on the postponement of the date for the reopening of schools for first year students.
The students were supposed to resume on September 18, 2023, but have been asked to return rather on September 25.
This was contained in a statement signed by the Acting Director in Charge of Schools and Instructions at the GES, Prince Agyemang-Duah.
"Management of the Ghana Education Service wishes to inform all Heads of Senior High and Senior High Technical Schools that the reopening date for Form One students has been rescheduled to 25 September, 2023," portions of the statement contained.
"By this letter, Regional Directors of Education are requested to communicate this information to all Heads of Senior High and Senior High Technical Schools to inform parents/guardians and students to take note of the new date and prepare accordingly," the statement added.