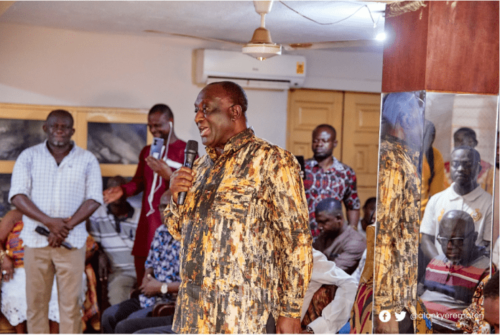 The campaign team of Alan Kwadwo Kyerematen, former Minister for Trade and Industry received massive endorsement in the Bono East Region, as thousands of Party sympathizers thronged the streets in large numbers to welcome him and his entourage to the region on Wednesday.
As part of his nationwide tour of the 16 regions to announce his presidential ambition, the Alan team received one of the biggest welcomes ever seen in Bono East with deafening shouts of support from the overflowing crowd.
A hugely successful interaction with Chiefs and other stakeholders of the New Patriotic Party saw thousands of Party supporters trooping to the venue to have a feel of the presidential hopeful.
At the Techiman Traditional Council, the linguist described Hon Kyerematen as a 'true son of the soil' since the links between Techiman and his hometown of Ejisu, were deep and rooted in rich history.
"You are our own. Techiman has a deeper connection with Ejisu, where you come from and particularly with your family. You are part of us", the linguist at the Techiman Palace revealed.
The former Trade and Industry Minister then chronicled how his father, the late Dr. A. A. Y Kyerematen is connected to the Traditional Council.
He described himself as being part of the inner core of the Council, adding that he had come home to interact with his own people.
The presidential hopeful used the opportunity to meet the political, religious, traditional, and other stakeholders of the party, including the press.
The heartwarming scenes at Techiman manifested the open perception that Techiman is a Pro-Alan region when the Party heads to the polls later in the year to elect a presidential candidate.