A Parliamentary Candidate aspirant for the opposition National Democratic Congress (NDC) in the Wa Central Constituency has paid some medical bills of some constituents.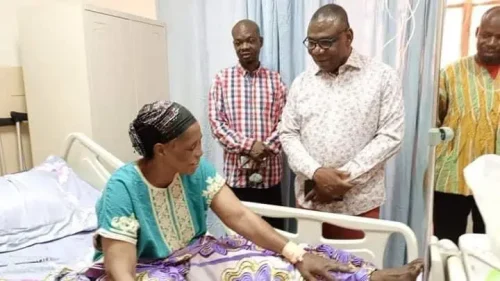 Hudu Mogtari visited the constituents at the Upper West Regional Hospital on Wednesday, May 10.
According to him, he is concerned about the well-being of the Wa Central Constituency and he is ready to make their concern a priority.
Mr Mogtari used the occasion to also encourage them not to give up but have hope for a good health.
Speaking to the media after the said visit, he assured them he will be visiting every now and then to check up on them.
"I am a true son of the constituency and I understand the needs of our people. That is my utmost reason for this contest. I want to ensure the constituency and its constituents are better off and not the current state it finds itself," he said.
"I am ready for this and I want the delegates to trust with their power and support so together we can all make it better," he told the media on Saturday, May 6.
He also pledged to accelerate development in the area, while helping build the capabilities of the youth in the constituency.
Meanwhile, the NDC will hold its primaries on Saturday, May 13, to elect new parliamentary candidates in all constituents ahead of the 2024 general election.
The exercise will also elect a new flagbearer for the NDC, in its quest to annex power from the ruling New Patriotic Party (NPP).