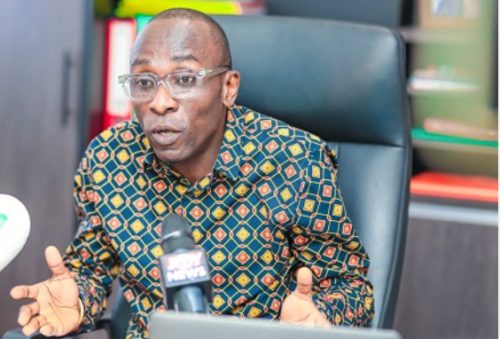 Deputy Communications Director of the New Patriotic Party (NPP) Ernest Owusu-Bempah has described leaders of the main opposition National Democratic Congress (NDC) as cowards.
He cautioned the NDC that any attempt to unleash violence in the 2024 general elections will not be countenanced.
"They dont have the balls, they only talk, in the 2024 elections the Ghanaian people will reject NDC and if they try any violence we will show them pepper, we will crush them," Mr Bempah said on Sunday, April 9.
He added "Aseidu Nketia advised us that elections are won at the polling station, they should learn how to collate results and learn how to choose a good leader, not a dead goat.
"What is Mahama coming to do in 4 years, is it dumsor or to impoverish Ghanaians and enrich himself? We the people of Ghana will never allow him and the NDC to come to power."
He was responding to Ningo Prampam Lawmaker Samuel Nartey George who called on his fellow members of the NDC to go back to the revolution days.
Sam George was reacting to Abetifi Lawmaker Bryan Acheampong's comment that the NPP would not hand over power to the NDC
He wrote on Facebook that "My beloved NDC! We are worried of the rantings of scarecrows and hype simpletons into cult status. Bryan Acheampong and Joe Anokye on my mind.
"Can we go back to our old days? We are children of a REVOLUTION! Can we call these imposters out and dare them to try? People who did a 6 month Military Course now threaten the NDC? I mean how?! Let's stop glorifying folks who don't deserve our attention and focus on what we have to do. Let me go back to my Easter meditations. Shalom!"
Bryan Acheampong had assured members of the New Patriotic Party (NPP) that the economy will bounce back.
He said the government is working to secure a deal with the International Monetary Fund (IMF).
Hopefully, he said, by June this year the deal will be closed, a situation that will lead to the resurgence of the economy.
Speaking to members of the NPP in Kwahu after a health walk on Saturday, April 8, the Abetifi Lawmaker said "NDC party will collapse. If the NDC dares to use threats, Violence and foolishness in the 2024 election we will let them know we have the men. We will show them that we have the men. We have the men.
"It will never happen that we the NPP will stand on a platform to hand over power to the NDC. It will never happen! We will make sure NPP remain in government at all cost".
The former Minister of State in Charge of National Security added "Now with the way things are changing the economy will bounce back again, I am telling you that we are going to come around that curve and we are going to win the 2024 elections hands down."