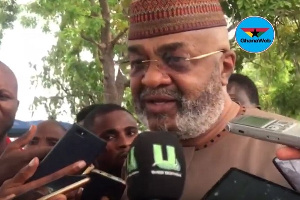 Alhaji Said Sinare, a former national vice chairman of the opposition National Democratic Congress (NDC), has urged the contenders of former President John Dramani Mahama in the flagbearership contest to step down.
According to him, the contenders of Mahama should not waste their money and time because the former president is going to resoundingly win the NDC presidential primaries.
Alhaji Sinare added that the three people challenging Mahama for the position of presidential candidate should rather use their resources to support the party in their constituencies.
"You're wasting your time if you say you want to contest John Dramani Mahama. You are going to waste your resources; you are going to waste your money; you are going to waste your energy. At the end of the day, you can't beat the guy.
"But you will be very productive if you send those monies, those resources, to the constituencies and help them financially. You will be a better man if you channel those resources to the constituencies.
"I respect Dr. Duffuor very much; he is somebody that I love so much; he is there in my heart. But I will always say that he will not get to the promised land," he said.
He said that Dr. Kwabena Duffuor does not even have the energy to campaign across Ghana because of his age.
Former President John Dramani Mahama; former Finance Minister Dr. Kwabena Duffuor; former Kumasi Mayor Kojo Bonsu; and businessman Ernest Kwabena Kobeah are expected to compete in the NDC flagbearership election scheduled for May 13, 2023.