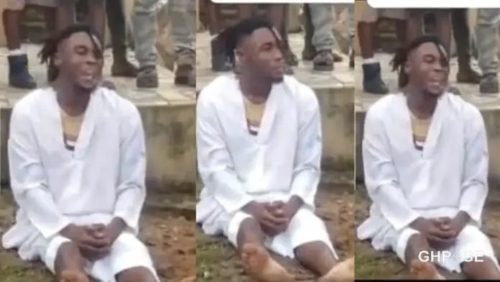 Man pretends to be mad after he was caught trying to steal a child:In a shocking incident that unfolded in Pokuase, a young man found himself in a dire situation when he was caught attempting to steala 2-year-old child. This brazen attempt at kidnapping could have ended in tragedy, but fate had other plans.
The identity of the man involved in this incident remains undisclosed as of now, but the details of his actions have left the community in shock. According to sources, he targeted the baby in Pokuase, a town in Ghana.
Luck, however, did not favor the would-be kidnapper on this day. Alert members of the community spotted him in the act, and this was when his desperate bid to escape the consequences began.
As he faced questioning from the concerned onlookers, the man resorted to an unusual tactic to avoid apprehension. He began quoting passages from the Bible and adopted a persona of apparent mental instability. It was a bizarre and desperate attempt to evade the grasp of justice.
A video of this peculiar encounter has since gone viral on social media. In the video, the man can be seen sitting on the ground, surrounded by people who had gathered in response to the commotion. He tries to communicate with them, emphasizing the imminent arrival of God and expressing indifference towards what people might say about him. In his delusion, he believes he is there to deliver a message that the end of the world is near.
However, another clip from the incident shows a more confrontational side to the encounter. In this video, a woman, believed to be the mother of the child he attempted to kidnap, can be seen confronting the man. Anguish and fury fill the air as the woman takes matters into her own hands and confronts the man physically.
The incident serves as a stark reminder of the dangers that can lurk in even the most unsuspecting places. It also highlights the power of community vigilance and quick thinking in thwarting potential tragedies. While the motives behind the attempted kidnapping remain unclear, the community's swift response ensured the safety of the child and potentially prevented a grave crime from occurring.
As the investigation into this incident continues, it serves as a sobering reminder of the importance of remaining vigilant and looking out for one another, especially when the safety of the most vulnerable among us is at stake.