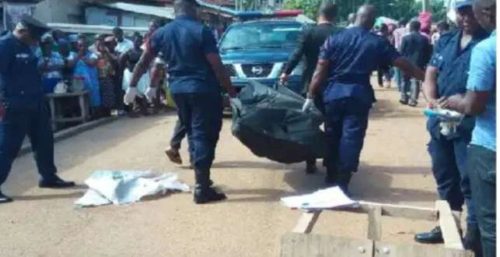 According to reports, an enraged guy killed his brother after the two disagreed. Moses Tetteh, 50, and his younger brother Tetteh Kwaku, 48, were involved in a violent altercation that ultimately claimed the life of the younger brother. The argument reportedly started over ten cedis, and the younger sibling' s drinking only made matters worse. The tragic event occurred on September 9, 2023, in Kuano, Eastern Region, Ghana.
According to a UTV news story, the two siblings drank excessively and frequently argued when drunk. Tetteh Kwaku discovered one day that his GH10 was gone. His first assumption was that his older brother, Moses, had stolen it.
Tetteh Kwaku had reservations about Moses' s innocence and ended up buying a cutlass to prove it. He accused his sibling of stealing the cash, and things quickly escalated into an all- out brawl. Even with parental intervention, the heated discussion continued. Tetteh Kwaku used the cutlass he had under control to inflict minor injuries on his brother throughout the struggle. Moses picked up a nearby fufu pestle and hit Tetteh Kwaku on the jaw and neck, and he had every right to do so. When Tetteh Kwaku passed out, the fight may have finally ended. Tetteh Kwaku was rushed to the hospital by the onlookers. He unfortunately appeared to be dead on arrival.
A 23- year- old man is said to have shot his sister in retaliation for her role in preventing the murder of their mother in a similar occurrence that occurred not long ago in Twifo 34 in the Twifo Atti- Morkwa Locale of the Focal area. According to accounts, the guy stabbed his child' s mother with a cutlass so that she wouldn' t sell him cocoa beans. I pray for the repose of their souls.