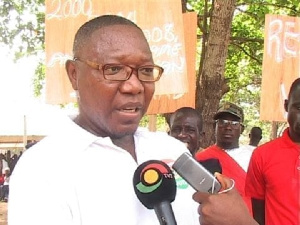 Member of Parliament (MP) for Builsa South, Dr Clement Apaak, has stated without mincing words that the record of former President John Dramani Mahama in the fight against corruption is unmatched.
The MP who worked as a presidential staffer under the former president said John Mahama stands tall in the fight against corruption.
Dr Apaak said, "I know that when it comes to the record of fighting corruption in the history of the 4th Republic, clearly the Mills-Mahama administration and the Mahama-Amissah-Arthur stands tall because I was there and it was part of my responsibility, working with the late Daniel Batidam."
"We were in charge of the portfolio that had to do with good governance and the fight against corruption. So I know what I am talking about."
In citing examples, the MP mentioned the Abuga Pele scandal and the investigation in which he claims the former President ordered the BNI to uncover a GH¢7.9 million rot at the National Service Scheme, for which people were prosecuted.
"Compare that to this current government and president, tell me one alleged act of corruption that has been investigated where sitting government appointees had been held accountable."