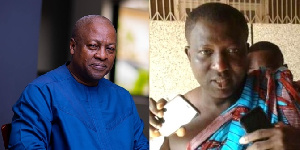 A former executive of the Tema East Constituency branch of the opposition National Democratic Congress (NDC), Stephen Ashitey Adjei, has accused former President John Mahama of lacking tact and walking in mistakes.
In response to the former President's confession to regret over buying tractors for farmers when he was in office, Moshake says Mr. John Mahama did not show political maturity.
"Yes, we all know that your administration was full of mistakes which unfortunately has cost the NDC dearly, however it is not every dirty lining that you wash in public. If belatedly, you have realized your mistakes, you don't come and sell your awkwardness and lack of sagacity to the public," Moshake wrote.
According to him, "in mature politics, you quietly make notes and then change things when you get into office."
Lambasting the former President over the development, Moshake declared that he is a man, "married to political mistakes that even neophytes should not make."
The bone of contention is an interesting admission that Mr. Mahama recently made while speaking in Munich, Germany.
According to him, his government erred in buying tractors for farmers during his tenure.
Mr Mahama said his government should have rather placed the tractors in a pool and given them to an expert to provide the services to the farmers.
Hear him: "I realised some of the things that we did, we made mistakes, we imported tractors and agricultural equipment, and we gave it to farmers.
The farmer does not need the tractor, he does not need the agricultural equipment, he needs the services of a tractor".
According to Moshake, this admission is reckless and politically immature.
"You have just admitted that you were making poor decisions and implementing bogus policies when you were president, the question is who should really take you serious anymore?" Moshake asked.
He adds that Mr. Mahama's admission also insults Ghanaian farmers as people with poor sense of value and maintenance culture.
"I do not even know who has been advising Mr. Mahama about his public utterances but he really does not seem to have learnt anything in the six years that we have in opposition, thanks to him."
He said, things like these are the reasons why i and the many level-headed people in NDC want Mahama out. "The blunders are just too much."
According to him, "it is things like these that make thoroughbred NDC members like Prof. Joshua Alabi want Mahama out," Moshake wrote adding that, "when the good Prof. stood up to contest Mahama for the party flagbearership in 2018, he had finally come round to the realization that Mr. Mahama was too blunder-prone."
The former constituency executive thanked Prof. Joshua Alabi for taking that bold step in 2018.
"the english word, "problem", which was derived from the latin word, "problema" simply means a question, matter, situation or person that is perplexing or difficult like JM. If you are a former president and a problem to your party but cannot identify the problem, then you have a big problem. Infact, JM has a problem and his problem is that, he doesn't know his problem. He should pave way for the brilliant economist in the person of Dr. Kwabena Duffuor to lead the NDC to victory in 2024." Moshake stated