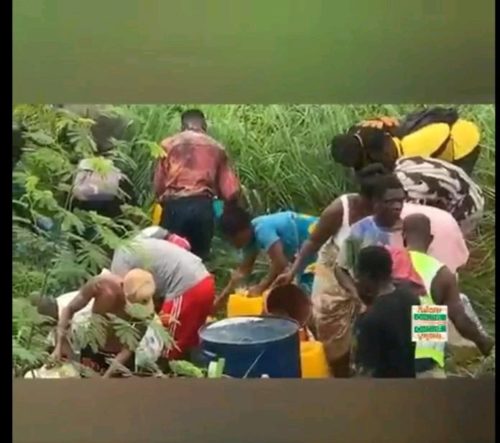 Residents and drivers along the Accra-Tema motorway on Friday morning risked their lives to fetch fuel which was gushing out of a crashed tanker.
The accident reportedly occurred about 200 meters before the toll booth at the Accra end spilling fuel onto the highway.
A fuel taker, which belongs to Dukes Petroleum, was transporting diesel from Tema towards Accra and skidded off the road in an attempt to swerve a saloon car.
The content, which spilt on the road, made it slippery for motorists.
This posed a threat to motorists coupled with vehicular traffic.
Some drivers, who were plying the road and parked their cars to fetch the fuel, in an interview with Adom News' Ohene Amponsah said they couldn't watch the fuel go to waste.
"Times are hard and we couldn't just watch on so I had to fetch the fuel for my car," a driver happily said.
Some motorists stated their action was risky but they argued the risk possibility of an explosion when a tanker transporting diesel crashes was minimal compared to petrol.
Safety under threat as fuel tanker explodes while descending Mamfe mountain
Driver in critical condition after accident involving fuel tanker