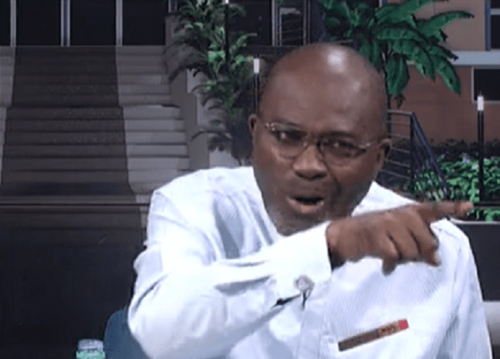 Professor at the Kumasi Technical University (KsTU) Smart Sarpong has admonished the Member of Parliament for Assin Central Constituency, Kennedy Ohene Agyapong, to work on his temperament as he seeks to lead the New Patriotic Party (NPP) into the 2024 elections.
Ken Agyapong is one of the 10 aspirants on the ballot of the ruling party's presidential primaries.
The number of aspirants is expected to be whittled down by half after a super-delegates conference on Saturday, August 26.
Speaking about what the Assin Central MP brings to the table as an aspirant, Prof Sarpong stated on TV3's News 360 on Wednesday, August 16 that the firebrand politician only has two weaknesses that could work against his candidature.
The Senior Research Fellow at KsTU's Institute of Research, Innovation and Development said the businessman is quick-tempered.
He insisted that this may not augur well for him.
Prof Sarpong also said the Assin Central lawmaker lacks diplomacy, which he says is very much needed in politics, especially at the presidential level.
He, therefore, says Ken Agyapong must change perspectives about his lack of diplomacy in handling controversial matters.
The researcher, however, said positive factors about Mr Agyapong's person such as his outspokenness, long years of experience as a lawmaker and his philanthropy far outweigh the two negative traits.
However, Prof Sarpong notes, the two highlighted may do him in as regards the position he is seeking to occupy.
But in an earlier interview on TV3, on New Day, the Board Chairman of Ghana National Gas Company said he is only confident in himself and this is only misconstrued as arrogance by most Ghanaians.
"I am not rude; I am confident, and in this country, Ghanaians misconstrue confidence with arrogance."
He later added: "It's been ups and downs. Some of you describe me as controversial and some say forthright.
"It's not been easy but I always get vindicated in the long run."