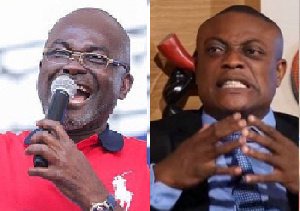 A private legal practitioner, Lawyer Maurice Ampaw has lambasted the New Patriotic Party (NPP) flagbearer hopeful, Kennedy Agyapong for threatening to collapse the party.
According to him, Kennedy Agyapong lacks the constitutional right or power to take such an action against the party.
In an interview with Sompa FM (March 10), Kennedy Agyapong claimed that there was a plot by the government to collapse his companies, before sounding a word of caution that if the plot is pursued, he will reveal secrets that will collapse the NPP.
"You are going there because Kwame Agyapong is a loudmouth. You want to collapse my companies because I want to contest. I'm being nice and charitable to the NPP but they shouldn't dare me. Anybody who tries to kill my companies because I'm contesting for elections, I will kill the party.
"The things I know and will say will kill the party. I've gone through a lot from January till date but I've been very nice. If you want to collapse my company because of one person then I will also kill the company. I'm not afraid of anyone," he fumed.
While appearing as a guest on Mmra Abrabo Mu nsem on Wontumi TV on March 13, 2023, Maurice Ampaw urged Kennedy Agyapong to become acquainted with the law in order to avoid exposing his ignorance to Ghanaians.
"NPP is nobody's property, Kennedy Agyapong listen to me, NPP is not for you. How dare you? That you will collapse the party…don't let me come directly at you, you dare not.
"You cannot… it is the party members who are afraid of you. NPP party is a public entity, I'm teaching you law today. NPP party is a political party and in law, a political party is a public institution, it is not owned…NPP is not owned by one person.
"All Ghanaians have an interest in what goes on in NPP, and the same with NDC that's why I can speak about the NDC, because both political parties, through your activities win power to govern us.
"So, Ghanaians have an interest, and that's why I can talk about NDC because whatever happens in NDC, one day they will win power. So, if we don't have a say in what goes on in NDC, we will get bad leadership to control our resources.
"That's why I said Kennedy Agyapong, know the law, go and learn about the law because you can't collapse the NPP party."
He also dared Kennedy Agyapong to reveal whatever secrets he claims to have against the party.
"Whatever secret you have, come and say it. You're loud Kennedy Agyapong, use that to scare the foot soldiers.
"And those that are following Kennedy Agyapong, thinking that he is their saviour he can't come and save anybody. He's a populist."
Ampaw asked Agyapong to look and learn from fellow aspirants: "Look at the other presidential candidates, look at Alan Kyerematen, look at Bawumia, on a quiet note. They're working, and Kennedy, he's just making noise. For you, every day you're accusing Nana Addo, what at all has Nana Addo done to you?" he asked.