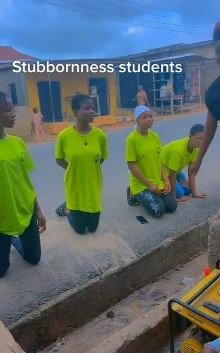 A video has captured the moment a hairdresser asked her apprentices to kneel by the side of the road as punishment for being stubborn.
In the video, six young women knelt on the coal-tarred road, while passersby watched them.
One of the apprentices appeared tired at some point and is seen on all four limbs.
"Stubbornness students," the hairdresser wrote as she shared the video online.
The video has started a debate, with many saying it is risky to have them kneel on the road.