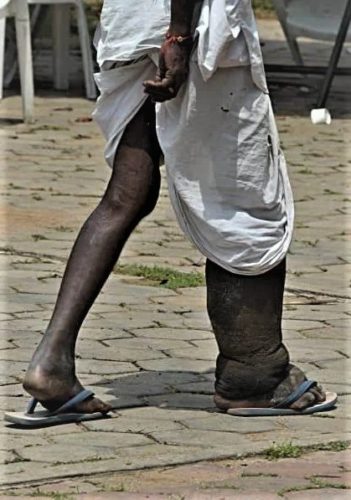 The Upper East Region of Ghana has emerged as the epicenter of elephantiasis, scientifically termed lymphatic filariasis, within the country's borders.
The Ghana Health Service reports that a substantial count of 2,373 confirmed cases of elephantiasis has been recorded in this region, contributing to roughly a third of the nationwide incidences.
Elephantiasis is rooted in parasitic infections carried by thread-like worms transmitted through the bites of infected mosquitoes.
The infection can lead to pronounced swelling and thickening of the limbs and genitalia, causing considerable physical distortion and disability. Additionally, the ailment can trigger severe discomfort and pain, which can lead to secondary infections.
Bright Alomatu, the Desk Officer for the Neglected Tropical Diseases (NTDs) program at the Ghana Health Service, shared that while all 15 municipalities and districts in the Upper East Region are plagued by the disease, health professionals have successfully halted the spread of elephantiasis within the region.
Mr. Alomatu attributed the higher prevalence in this region to several factors, including inadequate sanitation and hygiene practices, which provide a favorable breeding ground for mosquitoes and subsequent infection transmission.
He expounded, "The risk is very high where we have transmission ongoing because the mosquitoes bite everybody. So once the parasite is in the system and the mosquitoes are picking and spreading, then the likelihood of you getting it is very high."
Mr. Alomatu's insights were shared during a stakeholder sensitization event in Bolgatanga, where discussions centered on strategies for addressing challenges faced by elephantiasis patients.
Since 2016, health workers and volunteers have undergone comprehensive training across all regions, contributing to the cessation of disease transmission in 109 districts.
In 1999, when mapping the disease, out of the nation's 261 districts, 116 were identified as elephantiasis endemic. Regions such as Ashanti, Ahafo, Volta, and Oti were marked as non-endemic.
"Two thousand one hundred patients have been trained on how to manage their conditions so that they can see an improvement in the condition of the leg or whichever part is swollen, so that it will not swell further, and they will not also be going through acute inflammation," he added.
Mr. Solomon Atinbire, the Program Manager for the American Leprosy Mission, stressed that the sensitization aimed to empower individuals to advocate for the inclusion of elephantiasis patients in Ghana's Livelihood Empowerment Against Poverty (LEAP) program. This inclusion would offer them financial support to access health insurance and medical care.
Given the debilitating nature of elephantiasis, patients are often hindered from engaging in economic activities and accessing healthcare services. Consequently, committees have been established across all districts and municipalities in the region to champion the welfare of elephantiasis patients.
Dr. Josephat Nyuzaghl, the Upper East Regional Deputy Health Director responsible for Public Health, expressed the hope that these advocacy groups would collaborate with local assemblies to ensure patients could benefit from the assemblies' disability funds.