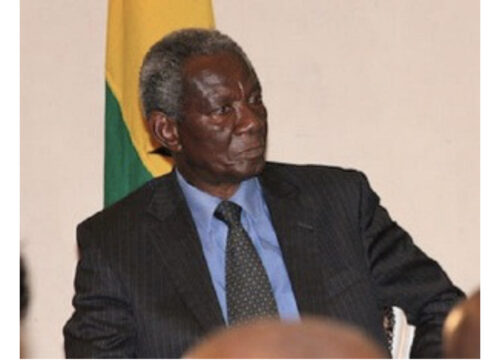 Economist and stateman, Kwame Pianim has expressed worries over government's measures to salvage the country's economic challenges.
According to him, the empowerment of foreign officials to manipulate and determine what government must do and the persistent resolve of the government to seek help from the International Monetary Fund (IMF) is an indication of government's incompetence and symbolizes neocolonialism.
Speaking on Joy News' news analysis program, Newsfile, Kwame Pianim explained: "We have a Finance Minister who borrowed and Parliament that supported him to borrow. We have now somebody from the US treasury sitting in the Ministry of Finance to hold Ken Ofori-Atta's hand. Ken told me once – we went to school with these same white boys – we are just as good as them."
He added, "Now he has somebody sitting there, holding his hand, giving him tutorials to in what? And we have somebody being paid by a Swiss fund sitting in the Bank of Ghana. Our governor was out giving advice to other countries. And we are being recolonized.".
The economist blames corruption and reckless spending on the side of the government for the country's woes and is of the view that no country should pardon Ghana of its debts, rather, the country must develop payment programs that would compel the country to pay.
This Kwame Pianim believes would deter subsequent governments from economic mismanagement and corruption.
This will not be the first time the former government appointee under John Agyakum Kuffour is criticizing the Akufo-Addo government. In January, he suggested that Ken Ofori-Atta was the worst finance minister the country has had.
Speaking in an interview on Okay FM on Monday, January 16, 2023, which was monitored by GhanaWeb, Pianim said that it is only under the leadership of Ofori-Atta, as finance minister, that Ghana has defaulted in the payment of its debts.
He added that Ofori-Atta is solely responsible for the economic mess the country finds itself in because he failed to listen to advice.
"This past December, we told the whole world that we can't pay our debts. In the first few years of Nana Ofori-Atta, we warned him of the rate at which he was borrowing but he did not listen, saying that he knew what he was doing. We told him that he is going to lead the country into a ditch, and now we are in it.
"We are now trying to get the country out of the ditch, and he is saying it is God's doing… the country has always run at a loss in budgets he (Ofori-Atta) has prepared. He said he will use the E-Levy to resolve the country's challenges, it was given to him, and nothing happened," he said in Twi.
Asked whether Ofori-Atta is the worst finance minister Ghana has ever had, he said, "Am I the one you are asking?"
"We have been declared bankrupt; Ghanaians are suffering; pensioners are crying because of the haircuts they are receiving. Some of them are saying this is more than a death sentence and they will die if they don't take blood pressure medications," he said.
EAN/BB