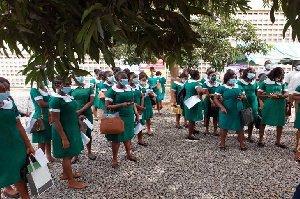 Nurses who have been transferred from the Ga South Municipal Health Directorate of the Ghana Health Service have raised concerns over the manner the transfers were done.
According to them, the notice of their transfer was very short, and they therefore could not afford the maximum time needed to prepare.
In a letter dated February 21, 2023, and signed by the Municipal Director of Health Services, Ga South, Dr. Afua Animwaa Asante Twumasi, 172 nurses were transferred from the Ga South Municipal Health Directorate to all facilities with effect from March 1, 2023, for permanent duties.
The names of affected nurses were stated with their positions, the health facilities they were being transferred to and the location.
"By a copy of this letter, the heads of affected facilities are hereby informed to release the officers to their new station. The officers are entreated to properly hand over all Government Properties under their custody to their Heads of facilities and also ensure that copies of the handing over notes are sent to the Municipal Health Directorate in due course," the letter stated.
Concerns
Meanwhile the affected nurses have raised concerns that the timing between when they received the letter and when they have to assume their new office was inconvenient for them.
Initially, they said nurses were given three months' notice prior to their transfer. However, with this letter, the notice had been shortened to about a week, so they were unhappy about the directive.
The nurses also said due to the location of their new offices, they need time to get accommodation and re-adjust with relocation.
They are therefore calling on the authorities to reconsider their decision and give them more time to prepare for their new offices.