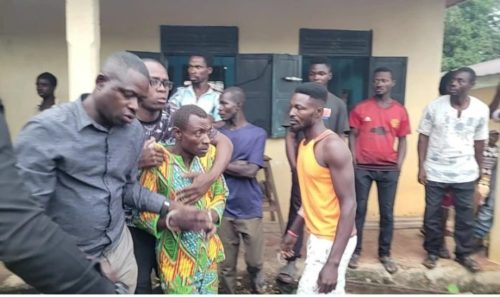 A serene suburb in the Kwahu West Municipality, Ohene Akura, is grappling with shock and sorrow following the tragic death of a 10-year-old girl, Akua Kissiwaah Angel.
According to Agoo FM News, the incident has led to the arrest of a 40-year-old man identified as Mr. Larbi, who is accused of being involved in the girl's untimely demise.
Mr. Larbi, a fufu pounder by trade, is a familiar face in the neighborhood and is known for his amiable nature and regular interactions with local children. However, the peaceful façade was shattered when allegations of a darker nature surfaced.
Residents in the area alleged that Mr. Larbi had defiled or had anal sexual intercourse with Angel, which they believe led to her untimely death. The community was rocked by the shocking news, and speculations swirled about the events that transpired within Larbi's home.
According to a source within the police service, the case demands meticulous investigation due to conflicting accounts of the incident.
A resident told Agoo News that Larbi came to him reporting that, Angel had sought refuge from the rain at his (Larbi's) home, complaining of a severe headache. He (Larbi) had reportedly allowed her to rest there until the rain subsided. Tragically, when he attempted to wake her after the rain ceased, he discovered her lifeless body.
The matter was swiftly reported to the local authority, Krontihene Nana Obeng Brako, who in turn informed the police. Mr. Larbi was taken into custody for further questioning.
Tensions escalated on Tuesday, September 12th, 2023, when Larbi was being transported from the Asuboni Rails Police Station to the Nkawkaw Police Station for additional investigation.
A furious mob of youth nearly attacked Larbi, seeking what some describe as "instant justice."
Police intervention prevented the situation from spiraling out of control, ensuring Larbi's safety despite the residents' anger.
Eyewitnesses reported a gruesome scene in Larbi's room, with blood reportedly emanating from Angel's mouth when she was discovered lifeless. The community remains deeply disturbed by the circumstances surrounding her death.
To unravel the mystery, Angel's body has been sent to the hospital for an autopsy to be conducted.
Meanwhile, Mr. Larbi remains in police custody, cooperating with authorities to aid in their ongoing investigation.
Residents have expressed mixed sentiments about Larbi. While some have accused him of wrongdoing, others describe him as a friendly figure who often had children visiting his house to play. His sociable nature endeared him to the community, making the unfolding tragedy all the more bewildering.
As the investigation continues, Ohene Akura remains in a state of shock and grief. The loss of a promising young life under such puzzling circumstances has left the community searching for answers and grappling with emotions beyond words.
While the truth behind this heartbreaking incident remains elusive, the residents of Ohene Akura hope for clarity and closure as they come to terms with this devastating loss.
Source: Kasapafmonline.com/Ebenezer Kojo Nyavor