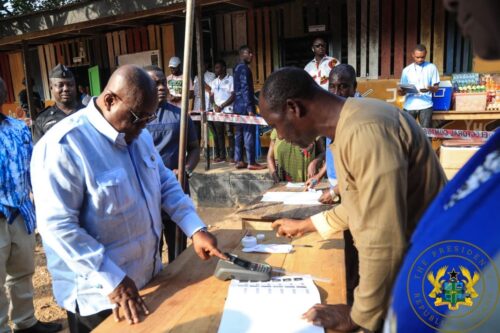 A Professor at the University of Ghana Ransford Gyampo has disagreed with assertion by President Nana Addo Akufo-Addo that elections are about those who vote and not those who count and supervise.
Mr Akufo-Addo had said that there was a need to ensure that the right of every qualified voter in Ghana was respected.He said nothing in the electoral process should be more important than the 'sacred God-given right' to vote.
Mr Akufo-Addo said these on Monday, March 20 when he swore in three new members of the Electoral Commission, Ghana (EC).
The three new members – Dr Peter Appiahene, Madam Salima Ahmed Tijani and Reverend Akua Ofori Boateng – were sworn in at a short ceremony at the Jubilee House.
The President said "I have always fought for and advocated for a credible electoral process in Ghana. In emphasizing the importance of the credibility of elections, it must be pointed out that the counting, collation and declaration of results cannot and should not be more important than the sacred God-given right of the citizen casting his or her ballot.
"I have said it before and I will repeat it, elections are about those who cast their vote, not those who count, not those who supervise, not those who transmit and not those who declare. The heart of the democratic process is giving effect to the choices made by those who cast the votes.
But Prof Gyampo disagreed with the comments of the President while speaking on the Key Points on TV3 Saturday April 8.
"Those who count are as important as those who vote," he stressed.
Speaking on the same show North Tongu Member of Parliament Samuel Okudzeto Ablakwa also criticised the President for his comment.
"It is totally flawed, it is jaundiced and can't be accepted in any democracy," he said.