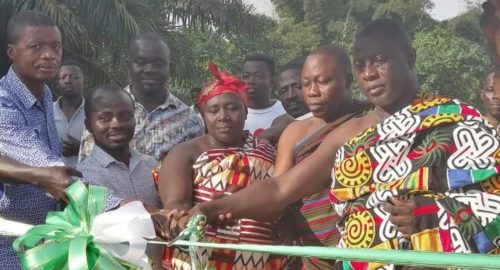 KONTOMERE KWAME Frimpong Ababio, the chief of Atwima Yabi, a community in the Atwima Kwanwoma District of the Ashanti Region, has released over 400 acres of land to staff of the Komfo Anokye Teaching Hospital (KATH) in Kumasi for accommodation and other developmental projects.
The Atwima Yabi chief released the land in consultation with the secretariat of the Asantehene, Otumfuo Osei Tutu II.
At a brief ceremony to hand over the land to representatives of the hospital on Friday, September 1, Kontomere Frimpong Ababio stated that he had full support from the Ashanti Monarch before releasing the land.
The traditional ruler expressed the hope that his generous act would motivate the beneficiaries to stay in the country to provide quality healthcare to the citizenry.
He bemoaned the migration of nurses and doctors to foreign countries in search of better conditions of work.
"Due to the economic hardship in the country, some nurses and doctors including those at KATH have been traveling abroad, but the beneficiaries of the donation have decided to rather stay and serve the country.
"Thus, as a way of thanking them for their patriotism, Otumfuo Osei Tutu II has ordered me to release these plots of land to them to get a place to lay their heads," the chief said.
Kontomere Kwame Frimpong Ababio pleaded with both individuals and organisations to support KATH in other strategic ways to motivate its employees.
Dr. Kwaku Nyame, a representative of the Komfo Anokye Doctors Association (KADA), thanked the Asantehene and Atwima Yabihene for their wonderful deeds and asked for God's blessing and protection over their lives.
He disclosed that the land would be used mainly for accommodation projects such as schools, hotels, markets and others.
"Whatever we have done here today is a proof that the chief has blessed the land for us and we promise that he will in no time observe some ongoing developments here because many of us are in search of places to rest our heads," he said.
Dr. Nyame disclosed that the area, when developed, would be known as the KATH Golden City.