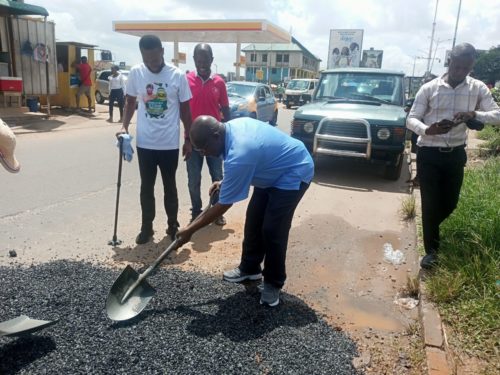 OTUMFUO KYINIYEFUOHENE, Nana Akonaah Osei Bonsu, has solitarily fixed some deep potholes in some major roads in Kumasi, the Ashanti Regional capital to obviate any unwanted road crashes.
The traditional ruler who has just formed a foundation called 'Can't Wait (CW)' on Monday, June 12, covered some deep potholes at Suame- Kronum road, Suame Roundabout, Abrepo Junction, Bantama high street and Kejetia roundabout with cold mix asphalt to prevent damages caused by these potholes on vehicles.
He stated that the deep potholes on some major roads in the Region have also become a source of worry to motorists as traffic flow is being interrupted in those affected areas.
For example, he lamented how cargo trucks and passenger vehicles from Suame roundabout to Kronum find it difficult to meander through the potholes, leading to long queues of vehicles.
The septuagenarian in an interview with newsmen said he was motivated to embark on such project after he nearly had a fatal accident about two weeks ago after his vehicle nearly collided with an incoming vehicle which was swerving a deep pothole at Suame.
"Since prevention is better than cure, I would not wait for a person or persons to lose their lives before I come out to help. With the little I have, I will use it to cover these deaths trapped potholes before disaster strikes," the chief noted.
The chief was hopeful that with support from other people, road carnage in the Region could be reduced drastically, noting that some major road accidents recorded in the Region were as a result of these deep potholes.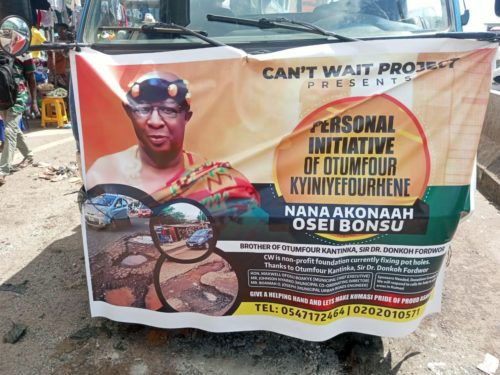 In his opinion added that, his project could reduce carnages in the Region if it could not eliminate it. "I believe this project I am embarking could reduce road crashes with its concomitant injuries," he said.
He disclosed that he had spent more than GHS50,000.00 to embark on the project and has thus appealed to benevolent societies, philanthropists and other well- meaning Ghanaians and individuals to support him to extend the project to other areas in the Region that have similar problems.
"I do not need your money for anything but just to continue with these cause. Help me to save lives on our roads and that is what I am appealing for," he added.
"There has not been any sponsor and I need some donors. This time I am using my own strength resources and that is not much so if anyone can help they are welcome. I do not want to just fix potholes, I want to extend it to other areas to uplift the image of Asanteman but eventually I will get it done with their help," he continued.
Nana Osei Bonsu opined that the citizenry should not wait on the government to do certain things when the individuals can take upon themselves to initiate before the government comes in.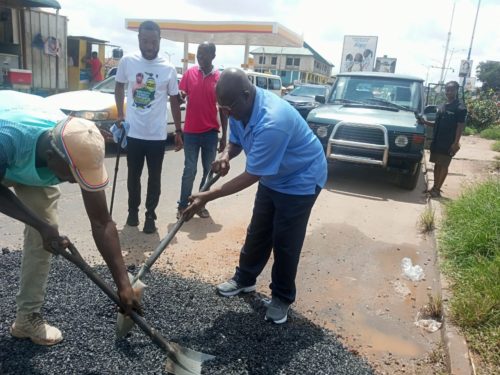 "We cannot wait for the government to fix certain things. Things that we know people in Kumasi can help eliminate like potholes, we should be able to fix them.
He could not fathom why some residents would drive into deep and dangerous potholes with their luxurious vehicles and would not care to fix it but wait on the government when they could.
"I am beginning with this initiative and so anybody that can help could join me. Let us not wait for the government, let us do stuffs for ourselves," he urged.
He thanked his brother, who doubles as Otumfuo Kantinka, Sir Dr. Donkoh Fordjour for his support.
Meanwhile, some market women at Bantama were seen hailing the chief for his kind benevolence and called on other traditional rulers to emulate him.
"This man has shown the way and we hope other chiefs in the Region will follow his good example. Chief like him is what Asantehene Otumfuo Osei Tutu II needs to move Asanteman to where it belongs," a woman who gave her name as Adwoa Foriwaa stated.
From David Afum, Kumasi