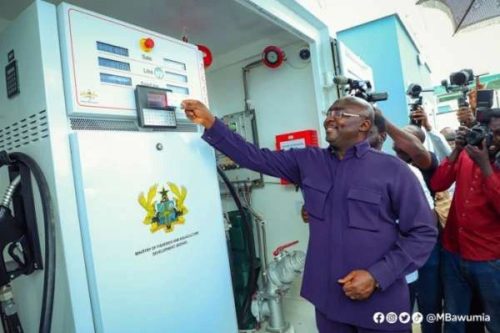 Vice President, Dr Mahamudu Bawumia.
President of the Ghana National Canoe Fishermen Council, Nana Jojo Solomon, has welcomed government's Automated Premix Fuel Dispensing and Monitoring System.
According to him, the system will redefine the face of fishing for artisanal fishermen in the country. He revealed that for a long while, fisherfolks have been grappling with persons cashing in on the premix fuel, although it is the sole prerogative of the artisanal fishers, both inland and marine.
Mr Solomon revealed that there are instances where people from all walks of life cash in and making huge profits out of the product because of the heavy subsidy. In light of this, fishermen have made complaints of insufficient fuel, and in most cases, resort tobuying fuel from regular pumps stations.
"We transfer the huge debts incurred to the consumer, hence the price of fish on the market is constantly escalating. So, this has come as a gamechanger. But I always want us to veer on the precautionary side a bit because these people [middlemen] are always coming up with antidotes, so I don't think it's 100%…
Nana Jojo Solomon
In spite of the seeming fullproof nature of the system, Mr Solomon expressed the need for government to exercise caution. He stated that urged the state not to overly glorify the system, but ensure it works as well.
"Because I don't want people to come out saying the machines have these problems. But I think so far, through the demonstrations we've had and everything, it's about 90% okay, which is perfect."
Nana Jojo Solomon
Moreover, Mr Solomon lamented the invasion of political sympathizers and party personalities in the sale and distribution of premix fuel. He noted that some MMDCEs visit landing beaches to purchase premix full, all in the name of protocol.
"Then you go there as a fisherman and want to buy fuel and they tell you that they are serving the protocols first… We are having issues with some of the MMDCEs and at the right time we will come out, we are just observing how these machines are going to work."
Nana Jojo Solomon
To address the problem, Mr Solomon threatened to publish the names of some of the DCEs and MMDCEs who are cashing in on premix to the detriment of the ordinary fisherman and the industry at large. He highlighted that they are primarily the cause of shortage of premix fuel intended for fisherment.
" They in the leadership role do these things then it gives the impetus for others to also join, but I don't think they're above the law."
Card-bearing fishermen assured sale of premix fuel
On his part, Administrator of the National Premix Fuel Secretariat, Nana Abrokwah, lauded government for the inauguration of the system in ensuring fairness. He indicated that as government has identified that the problems faced in industry can only be solved through technology, he is happy it has moved from paper to actual implementation.
"We have 300 landing beaches across the country, as I speak to you now, we have 50 that have been fully completed. Hopefully by next year, we will fully automate all sites and we believe that's the step and the right way to go. Fishermen have been very supportive; they've been very happy – right in Elmina where the project was launched. Fishermen have had the benefit to experience how the system works and are expecting that very soon we will roll out this project in their various districts as well."
Nana Abrokwah
Furthermore, Mr Abrokwah explained that all canoes across the country have been registered to streamline the sale of premix fuel on landing beaches.
He noted that this is to address the unscrupulous purchase of premix fuel by persons for other uses, as it creates artificial shortages. By virtue of its high subsidization, he indicated that people make huge money to the detriment of government.
In light of this, he revealed that the system will eliminate middlemen from the system because every canoe owner now will have a card.
"So, without a card, you can't dispense fuel… So, we've deployed cutting edge technology to solve the many problems that we have. Previously, we've had incidences of fire – this is now going to be a thing of the past."
Nana Abrokwah
Moreover, Mr Abrokwah emphasized that the Secretariat is working closely with fisheries commission, as registration has been undertaken and vetting of the list underway. He stated that this is ensure that fishermen who are registered are served accordingly.