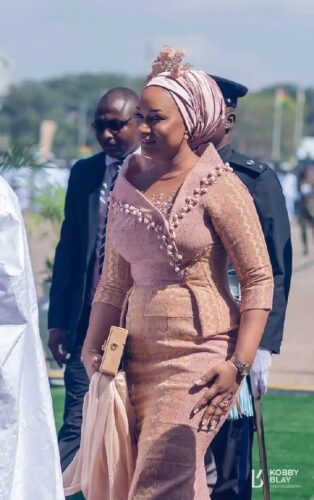 Every year, Ghana celebrates its independence on March 6th, and Samira Bawumia's fashion choices have become a tradition on this day.
Samira Bawumia's fashion sense has been described as elegant, sophisticated, and modern while still staying true to traditional Ghanaian fashion.
She often wears outfits made by Ghanaian designers, which showcase the rich and diverse cultural heritage of the country.
Her fashion choices are also very versatile, ranging from colourful and bold Kente dresses to monochrome modern looks, and is known for experimenting with different styles and fabrics.
Another aspect of her fashion sense is her love for accessories, particularly headscarves and statement earrings, as she often pairs her outfits with a matching headscarf or a bold pair of earrings, which add a touch of glamour and sophistication to her looks.
Let's take a look at some of the memorable dresses that Samira Bawumia has worn to every Independence Day celebration in Ghana.
60th Independence Day Celebration (2017)
61st Independence Day Celebration (2018)
62nd Independence Day Celebration (2019)
63rd Independence Day Celebration (2020)
65th Independence Day Celebration (2022)
66th Independence Day Celebration (2023)