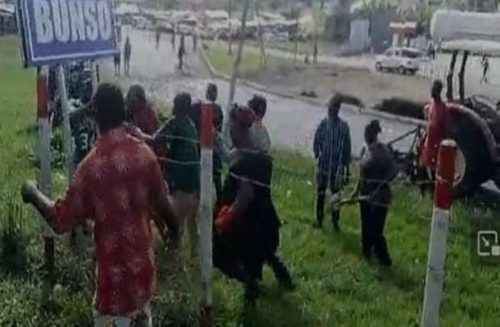 The two chiefs in the Akyem Abuakwa Traditional Area are fighting over the ownership of the area around Bunso junction. The chiefs and residents of Bunso and Nsutam under the Akyem Abuakwa Traditional Council in the Eastern Region are up in arms against each other over the ownership of the space at the Bunso junction roundabout along the main Accra Kumasi Highway.
The angry youth of Nsutam, well armed stormed the junction and in a physical confrontation pulled down a signage embossed with Bunso which was mounted by the chief of Bunso at the GOIL fuel station close to the Linda Dor Rest stop.
They angrily pulled down the signage which had been mounted at the roundabout by the Bunso chief.
The chief of Bunso who in an attempt to prevent the youth from pulling down his signage was pushed down and dragged back into his car.
The area, according to a source, traditionally belongs to the people of Asiakwa and was given to Nsutam residents to settle there but with the increasing market and commercial activities in the area, it has become attractive to the other chief.
The Chief of Bunso, Osabarima Abiam Brakatu II for some time now has allegedly been on a mission to forcibly take ownership of the area, an issue the youth of Nsutam have vowed to vehemently oppose.
The situation which nearly cause mayhem took the timely intervention of police personnel stationed at the roundabout to prevent the confrontation from escalating as it almost turned into a free for all fight when one person from the chief's camp pulled out a gun.
Records gathered indicated that, administratively there has been a long-standing issue between the Fanteakwa South District Assembly where Nsutam is located and the Abuakwa South Municipal Assembly which Bunso falls under on who is responsible to collect business operating permits and other taxes from business and property owners at the popular junction.
Source : dailyguidenetwork.com