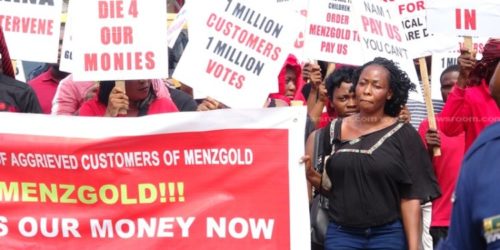 Aggrieved customers of Menzgold are appealing to President Nana Addo Dankwa Akufo-Addo to intervene in retrieving their locked-up cash while the criminal court proceedings against Nana Appiah Mensah, CEO of the defunct company, continue.
The aggrieved customers made the call following the new charge sheet filed against Nana Appiah Mensah by the state.
Popularly known as NAM1, Nana Appiah Mensah, who is accused of swindling thousands of Ghanaians who patronized his gold dealership business, has been slapped with 39 counts of defrauding by false pretense, engaging in gold trading without a license, and money laundering.
Speaking to Citi News, Convener of the Menzgold Customers, Fred Forson, assured that measures are being taken to resolve the matter.
"His Excellency, the President, on compassionate grounds, should also give action to the petition that we submitted to him. That he should order a bailout for affected customers while the criminal proceedings run in court," he said.
"We want to say that customers should be rest assured that leadership is doing everything possible to ensure that we retrieve the very principle that we invested in Menzgold. We want them to keep heart," he stated.
Meanwhile, the Attorney General, Godfred Yeboah Dame, has assured customers of the defunct gold trading company, Menzgold Ghana Limited, of justice.
Dame described the defunct dealership firm as a Ponzi scheme that has left many of its victims homeless, with broken marriages, and some have lost their lives.
He made this known while delivering the keynote address at the 40th International Symposium on International Crime.
"It called itself Menzbank and metamorphosed into a number of names before eventually taking up the name Menzgold. It dealt with the purchase of gold collectables from the public and issued contracts with guaranteed returns to the public without a license from the relevant authorities. I am happy to state that after painstaking investigations, criminal prosecutions have commenced into the perpetrators," he stated.