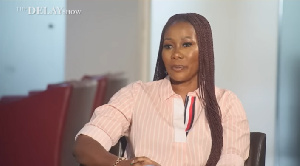 Sandra Adu, popularly known as Borga Sylvia of Kumawood movie 'Kumasi Yonkuo' fame has said she is unaware her estranged husband, DJ Turbo B has remarried.
The two showbiz personalities married in 2004 after their paths crossed at Adum, Kumasi. In their fifteen years of marriage, they had two children and kept a rather low profile as the wedding, according to her, was private.
In her interview with Deloris Frimpong Manso on The Delay Show, Borga Sylvia noted that she has not heard about DJ Turbo B's marriage to another woman although she cannot be bothered.
"We're not divorced but we're not together," she said when Delay asked her about her union with the famous DJ.
"I didn't know he's married. I've not seen anything online… We're no more together so whatever he chooses to do with his life, I don't need to know," Borga Sylvia added while mentioning that it's been more than a year since they separated.
Asked if she still loves Turbo B, Sylvia giggled and said: "I've moved on" but replied "no" when the host asked for a direct response.
Meanwhile, the actress has ruled out a possibility of a reunion.
"I've moved on and moved on. I've extra moved on," she affirmed.
Sylvia said she does not regret spending fifteen years with Turbo B. She was confident she would find someone like him. She disclosed she is currently in a relationship.
Turbo B, known in private life as Abdulai Rahim Abu got married to another woman in November 2022.