The Accra Metropolitan Assembly (AMA) has signed a sister city agreement with the city of Rome to promote culture, arts, education, sustainable practices and digital innovation.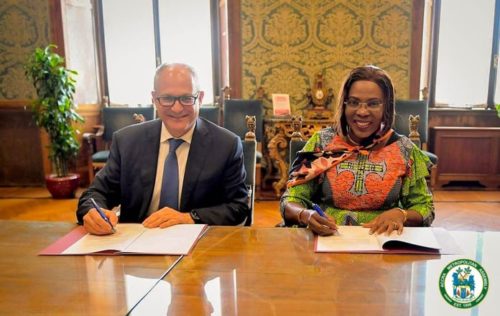 Speaking after the signing ceremony, on Tuesday in Rome, Italy, the Mayor of Accra, Honourable Elizabeth K.T Sackey, said the city of Accra was intentional about building bilateral relations with Rome to solidify the good diplomatic relations between Ghana and Italy.
Mayor Sackey mentioned that Accra wanted to share its rich culture, history and vision with Rome to promote trade, investment, arts and tourism, and youth skills development.
She was optimistic that this mutually beneficial relationship would impact the two cities and their residents, especially the youth and marginalised groups.
"I assure you that the city of Accra will work with key institutions in Ghana, such as the Ghana Investment Promotion Council, Ministry of Tourism, Diaspora Affairs Office, Regional Coordinating Council, and the Ga Traditional Council, among others, to nurture this relationship to yield to its total capacity.
"I want to use this opportunity to thank my President for his unwavering support, the Italian Ambassador to Ghana, Ghana Ambassador to Italy and all key Stakeholders for making this possible."
The Mayor of Rome, Honourable Robert Gualtieri, expressed joy at this momentous ceremony which he indicated started with conversations and commitment some few months ago.
He said that establishing friendly relations with the city of Accra was to foster collaboration between citizens and residents of the two cities.
He was delighted that this relationship, among others, would be the sharing of best practices in the socio-economic and environmental spheres and promoting arts and culture.
"I believe this is the beginning of a beautiful cooperation which will culminate in joint initiatives aimed at development in urban management, urban regeneration and joint projects to foster inclusion and innovation…Rome is bidding as host for Expo 2030. We are calling on you, as our sister city, to support our candidacy for this world event dedicated to finding solutions to the pressing challenges of our time… Rome, the host city for Expo 2030, will be an opportunity for our city and other cities in the world to find solutions to climate change, urban development, and resource exploitation, among others in a theme we have dubbed people and territories. When we say people and territories, we call on all cities to rethink regeneration, innovation and inclusion as tools to face our challenges together," he mentioned.