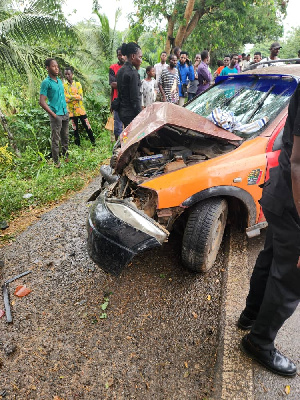 The police say they have opened the road to traffic. They also advice motorists to "exercise patience and drive carefully especially as the raining season approaches."
The Ghana Police Service has announced that there has been an accident on the Kpong-Akosombo Road that has caused traffic on that stretch.
According to the Service, the crash happened around Star Villa, a popular hotel on the outskirts of Kpong in the Eastern Region.
The statement on the police social media handle also said that efforts are being made by the first responders, including the Ghana National Fire Service, to ensure that the road is open to free-flowing traffic.
"There is an accident on a section of the Kpong Akosombo road, near Star Villa. Officers from the Police, Fire Service and the Ambulance Service are working to open (sic) the victims and to open the road to normal traffic flow," the statement said.
In the meantime, the police have urged road users on that stretch to be a little patient with them as they work to restore order on the road.
"We urge all road users on that stretch to exercise patience and take direction from the officers at the scene," it added.
In the photos shared by the police, it appears the crash was between a taxi and a public transport vehicle.
The statement, however, did not state if there were any casualties or injuries, nor did it provide any further details.