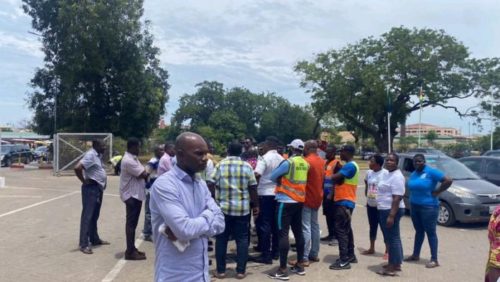 A scene of chaos erupted late Thursday morning within the premises of the Accra Metropolitan Assembly (AMA).
The confusion ensued as officials from the Electricity Company of Ghana (ECG) attempted to disconnect the facility from the national grid due to unpaid bills.
The AMA's Task-force team swiftly intervened, resisting the disconnection and temporarily detaining the ECG officials.
In an effort to obstruct the ECG team's departure, the gates to the premises were locked.
Although, AMA officials acknowledge owing the ECG an amount exceeding GHS300,000, they maintained payments have been made to the ECG.
However, they declined to comment on the matter and sought to prevent JoyNews from filming the incident.
The tense situation was eventually de-escalated through the intervention of military personnel, who managed to defuse tensions between the ECG officials from the Accra East District office and the AMA.
As of the time JoyNews departed the scene, the AMA's premises was powered by a plant.