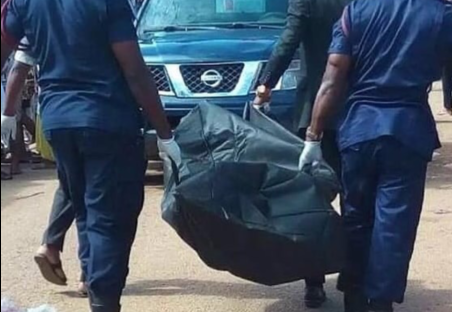 A man believed to be in his mid-30s has been lynched at Asafo in Kumasi by a mob. The man was accused of attempting to steal one of the Grand Bird buses belonging to the VIP Transport company.
GBC News gathered from the scene of the incident that happened at about 4 a.m. on Wednesday, March 8, 2023. Eyewitnesses allege that the unknown man in his mid-30s entered, started, and took off the Grand Bird bus with registration number GE 2304-10 from around the roundabout near the Ashanti Area head office of the Ghana Revenue Authority (GRA), at Asafo Dadiesoaba also closer to the Nana Afia Kobi Market.
According to the eyewitness account, the driver's mate, who was sleeping nearby, realised the move and quickly pursued the bus in a tricycle.
It was when the suspected thief, while on the verge of entering the main Asafo-Atonsu highway, realised he could not escape arrest, left the bus while it was in motion, and attempted to run away.
The driver's mate and concerned members of the public around, however, pursued and arrested the man.
The bus, then, without any driver, moved backward, hitting a stationary salon car also around the same roundabout before it could stop but damaging the salon car in the process.
However, a mob lynched the man on suspicion that he was trying to steal the bus.
A policeman from the Railways Police Station, who had been dispatched to the scene to on a fact-finding mission, echoed the narration of the eyewitnesses.
John Dauda told GBCNews that the salon car which was on sale, had been bought, with the buyer traveling from Bibiani in the Western North region to take it away.
Meanwhile, the Police at Asokwa in whose jurisdiction the incident occurred, have conveyed the remains of the man to the morgue for preservation pending investigations into actual circumstances of the incident.