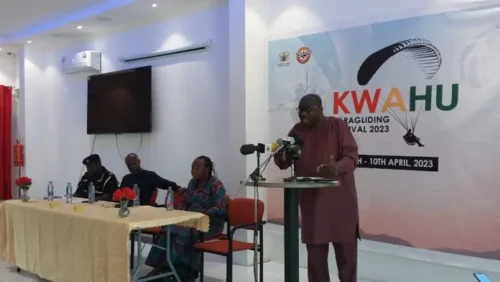 Hoteliers within the Kwahu enclave have been urged to charge moderate rates to avoid a shift in tourism destination for the country.
The Ghana Tourism Authority (GTA) made the call at the launch of the 12th National Kwahu Paragliding Festival.
The Kwahu Paragliding event has become an international event that attracts hundreds of tourists and give them memorable experiences.
Seasoned Tandem pilots fly patrons from the Odweanoma Mountain to the Nkawkaw Stadium.
This year's Paragliding event will take place from Friday, April 7 to Monday, April 10 with Seven Tandem Pilots. Interested patrons who wish to fly must pay GH¢950.00.
But one concern remains hikes in hotel rates.
The Board Chairman of Ghana Tourism Authority, Seth Adjei-Baah, asked hoteliers not to charge prices that may contribute to decline in patronage.
"We would engage the hoteliers to avoid astronomic prices. If the prices are too high, you may scare the tourists. They may change destinations to other regions or country. Attract them with a lower rate, so that you will still stay in business for a longer time. We want to make Kwahu Paragliding the destination of tourism."
Deputy CEO in-charge of Services at the Authority Benjamin Anane Nsiah noted that poor services by hoteliers and service providers create a gap between the rates they charge and service offered.
"You charge patrons for five-day packages, instead of the usual per day, contributing to a huge amount. In a long term, this may affect patronage."
He added: "There are different sensitivities to price hikes. Those who are well to do won't be bothered. But there are some who are price-sensitive and if you keep increasing the hotel rate and there is an equally alternative exciting destination, they would move. In a long run, the high prices wouldn't do the Kwahu Paragliding destination any good. Be sensitive and reasonable in the pricing and consider the interconnecting value chain."
The Authority is targeting an increase of tourists from 1 million to 1.3 million this year to various destinations in order to boost the country's Gross Domestic Product.
The Paragliding Festival has become an integral part of the Kwahu Easter Festivities and transformed into an international event under the Ghana Tourism Authority of the Ministry of Tourism, Arts and Culture.
3news.com