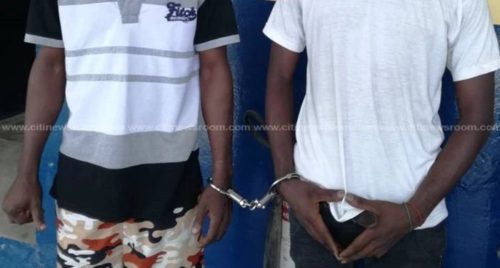 Two individuals were each given a 45-month prison sentence by the Accra Circuit Court for stealing bales of women's underwear with a GHC129,600 value.
Nsawam Prison – Ghana
Trader Samsu Abdul and businessman Rashiru Yakubu, who were charged with conspiracy to steal, stealing, and unlawful entry, entered a not-guilty plea, the Ghana News Agency reports.
At the conclusion of the trial, however, the court presided over by Mrs. Evelyn Asamoah declared them guilty.
However, Kwame Arhin, Jabril Iddrisu, and Zouberiru were found not guilty; as a result, the court released and freed them.
Accomplices Enusah and one Zaraku are reportedly still at large.
Mathias Agbo, a businessman who lives in Korle-Bu, Accra, was the complainant, according to the prosecution team, led by Chief Inspector Benson Benneh.
According to the prosecution, on February 22, 2022, the complainant went to his warehouse in Kantamanto and discovered that some of the items stored there were missing.
According to the complaint, the complainant then played the CCTV tape installed at the warehouse and showed some young guys using their keys to open the padlock on his warehouse and carrying three bales of women's underwear with a value of GHC14,400 cedis.
According to the prosecution, the complainant chose not to replace the padlocks in the warehouse because she wanted to catch the burglars.
On March 3, 2022, and March 12, 2022, it was claimed that the same young guys arrived at the warehouse, unlocked the padlocks with their own keys, and carried two bales each time.
Nine bales total, worth GHC129,600, according to the prosecution, were stolen.
The prosecutor claims that when Abdul was detained, he confessed to stealing two bundles of women's underwear while his companions were carrying seven bales.
According to the prosecutor, Abdul was unable to direct police to the homes of his cohorts and it was also unable to identify the person who received the stolen goods.
Yakubu was chosen on April 25, 2022, after information collection. Yakubu identified the person who cut the master key required to unlock the complainant's warehouse as Kwame Arhin, a key cutter.
According to that, Arhin was picked up at his store. Jabril Iddrisu was also hauled up after Yakubu identified him as the buyer of the women's underwear.